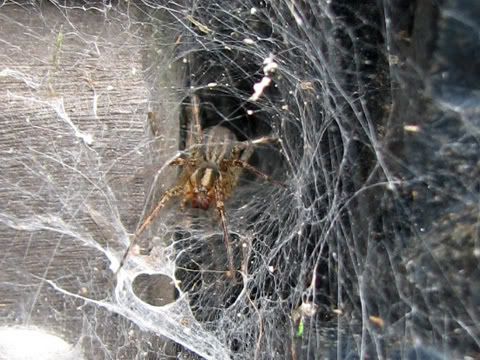 Photos by
cottonmanifesto. Location: Park bench, Olmsted park, Brookline.

Funnel web spider Agelenopsis naevia

Funnel web spiders are some of the most commonly encountered predators in the urban ecosystem. Their webs are horizontal sheets, which catch insects when they drop from above, or stumble into them. The spider hides in a silken tube at the back of the sheet, waiting to feel the vibrations of the trapped prey. When it happens the spider darts out, delivers a paralyzing bite, and drags the insect back into the tube to be consumed in concealment.

There are dozens of spider species that weave funnel webs, varying by geography, and by where they prefer to spin their webs. Some species are known to prefer indoor spaces, while others tend to choose fields and lawns. Hedges and trees are used, and a variety of man-made structures. Often the spider will incorporate a natural or man-made cavity into the web, spinning their tubes into the pipes of a chain-link fence or the hollows of a tree. A. naevia is a common species in New England, sometimes given the common name "grass spider."