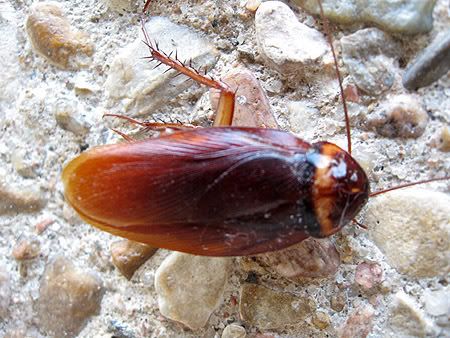 I found this roach upside-down in a business in Austin. I picked it up (to photograph it in a more discrete location) when it squirmed and wriggled--crippled by poison but still alive. Regaining my composure, I brought it out into the harsh Texas sun and took this picture.

Urban species #255: American cockroach Periplaneta americana

The cockroach is evolution's way of saying "if it ain't broke, don't fix it." Little changed in 300 million years, this insect has watched the continents drift apart, the dinosaurs come and go, and, many people suspect, will watch indifferently as humans disappear. They are successful in pristine tropical rainforests as well as in the densest and most polluted cities on earth. Despised by most people, killed on sight, and dwelling in buildings that are repeatedly bombed with insecticide, they continue to thrive. There are non-urban roaches, by the way, and they make up the vast majority: of more than 3000 species of roaches, only a handful (about 1-2% of total species) inhabit the worlds' cities.

The so-called American cockroach, like most other urban cockroaches, is thought to have originally come from Africa. When trade between that continent and North America was at its most notorious--when humans were a product to buy and sell--cockroaches stowed away in ships. These insects feed on nearly any organic matter, but can even survive without any food whatsoever for over a month. They can survive in tight gaps, in fact they actively seek them out, finding comfort in pressure above and below their bodies, packing together in great numbers. They hide from light, an attribute memorable to anyone who has flipped on the switch in a roach-infested kitchen. In their native environment of the moist forest, cockroaches are valuable detritivores, feeding on decaying vegetation and helping turn waste into fertilizer. They have no qualms about eating animal based food either, eating the shed skins (exuviae) and carcasses of insects. In a home or business they are less valuable, known to track filth into food, and leaving a disagreeable odor where they congregate. They are well-known symbols of filthiness--living emblems of the worst aspects of urban living. They have even been implicated in a rise in the rate of asthma in inner city children, who may be affected by allergies to roaches or their droppings.

At up to two inches long or more, American cockroaches are the largest of the roaches commonly found in North America. Landlords euphemistically refer to them as "water bugs" due to their attraction to the heat and moisture of plumbing, or as "palmetto bugs" (presumably because in southern states they are associated with palmetto plants). In northern states they are confined to the warmest and most humid parts of buildings--Boston's sewers, subways and extensive connected basements host untold millions of American cockroaches. In the south they are more free animals, coming in to homes and businesses to feed, but also roaming the outdoors. In the north, cockroaches are swift runners, and that is all, but in the south the heat grants them the power of flight. I finally witnessed this firsthand this past week in Austin, when one flew into the open patio of a bar at night, and landed on the bare shoulder of a patron. She squealed and flailed, and the insect flew one circle around a light before it landed on a wall, scuttling up and disappearing in a fraction of a second. It was only then that I realized what it was. Another new urban nature experience to enrich my life!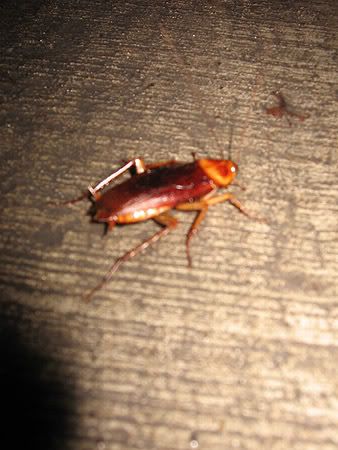 This American cockroach was running down an alley behind a 6th street bar in Austin. Unfortunately my photography when on long-distance field assignments (some call them vacations) is in need of improvement. Readers are encouraged to submit their own cockroach pictures in the comments section.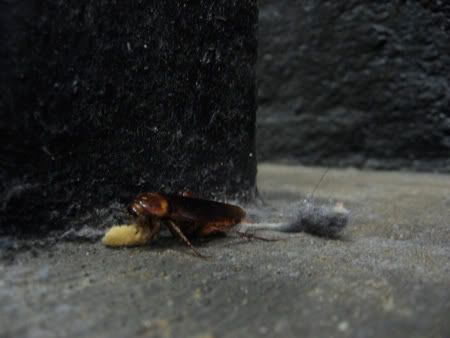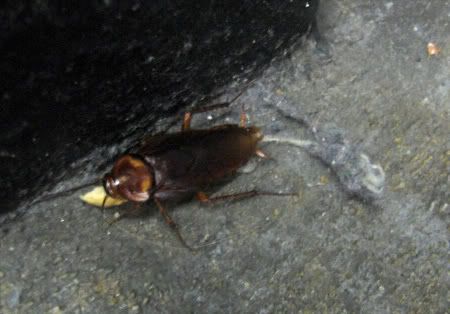 Location: Washington Street concourse, Boston subway system.