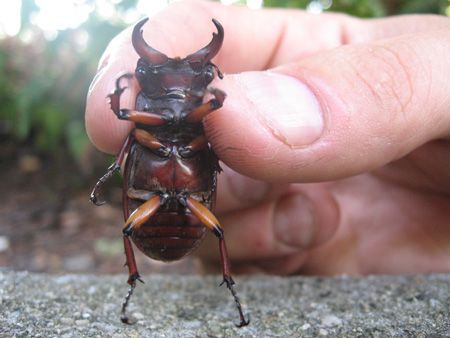 Photos by
urbpan. I found this male stag beetle walking along the path in the Riverway, and transported him to the nearby Longwood trolley stop, where I could photograph him while I waited for my train.

Urban species #235: Stag beetle Lucanus capreolus

When different organisms evolve similar adaptations, we call it convergent evolution. The incredibly long list of examples includes complex eyes evolving in cephalopods and vertebrates, flight evolving in birds and bats, and even armored anteaters independently in the armadillo and pangolin lineages. In the same way, two very different groups of herbivorous animals have evolved ritualized combat behavior among males. This is why the stag beetle has come to have such fearsomely oversized mandibles, which are useless for eating, which is what nearly all other insects do with their mouthparts.

The species pictured here, Lucanus capreolus the reddish-brown stag beetle, or more evocatively, the pinching bug, is one of many. Its scientific name refers to the two-point mandibles of the male, compared in Latin to the horns of a goat. The larva of this species is a huge white grub that lives in rotten wood, enjoying the products of decomposition (especially our friends the wood-decay fungi) for two years. A plump stag beetle grub would be a delicious, energy-packed prize to any woodpecker or other predator who extracted it from its stump or log. Adult stag beetles lap up the juices and saps of trees and other plants. This observer has watched various birds, such as catbirds and grackles trying to worry the edible meat out of the formidably armored adult beetles.

Large beetles aren't usually thought of as urban species, at least not in colder temperate cities. But this beetle is a native of the great eastern forests of North America. Even though the this is now the most densely settled part of the continent, the return of farmland to forest means that stag beetle habitat actually increased during the twentieth century. Forested city parks provide urban refuge for this and many other woodland species.