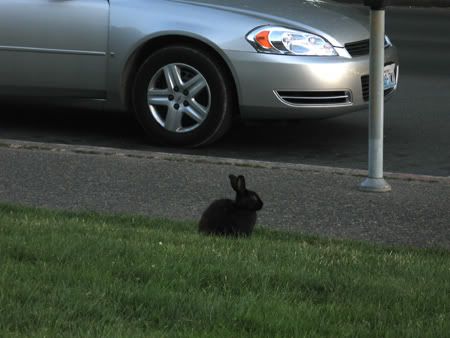 Photos by
urbpan. Location: University of Victoria campus, British Columbia.

Urban species #218: Domestic rabbit Oryctolagus cuniculus

Domestic animals often find their way into the ecology of urban places. They owe their very existence to humanity and civilization. But humans are flawed stewards, and will allow their animals to escape, or through a misunderstanding of "wildness," will turn pets, livestock, and lab animals out of their enclosures. And then there are the countless deliberate introductions, for the sake of sport hunting, or to seed an island with edible inhabitants, which have wrought destruction on ecosystems around the world. In North America domestic rabbits run free because a pet was no longer wanted, an animal mistaken for wild was "liberated," or because a bunny was only meant to be an Easter gift. The vast majority of released rabbits live short brutal lives, their flight-or-fight instincts blunted by centuries of breeding for life in the hutch. A released domestic rabbit has a life span of somewhere between one and two years, according to the House Rabbit Society, and other sources. In Australia, European rabbits (the wild ancestors of domestic rabbits) have run roughshod through the country, and constitute a serious ecological problem.

In North America, there are a few small cities that harbor breeding populations of domestic rabbits. The requirements for a population to become established include plants to eat, soil to burrow into for protection, and a single month to reproduce. Predators of rabbits are many, but their famously high rate of reproduction may overtake the rate of predation. On the campus of the University of Victoria, British Columbia, for example, the rabbits are well-loved by most of the students, and relatively safe from human predation, at least. University campuses are generally free of roaming dogs and cats, and most wild predators (notwithstanding the occasional mountain lion report at UVic) tend to avoid urban areas.

Some more discussion of urban rabbits occurs here.