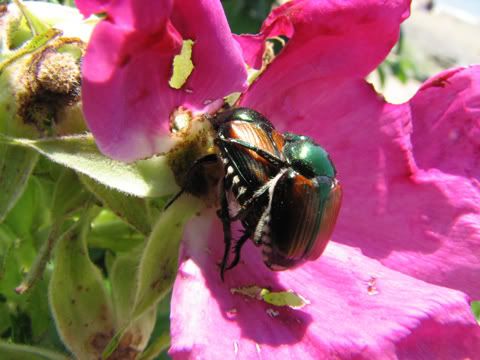 Photos by
cottonmanifesto
. Location: Spectacle Island, Boston.
Urban species #212: Japanese beetle
Popillia japonica
I n 1916, America's most densely populated state (New Jersey) became the first place in North America where a certain exotic Asian scarab beetle was found. This beautiful but destructive animal is now well-known to gardeners in the eastern states, and is becoming familiar in more places every year. Increasing amounts of regulation and use of biological controls (a bacterium and parasitic wasps) are the official weapons in use against the Japanese beetle. Others may use a more hands-on approach, as my parents did in years past, hand-picking beetles by the hundreds, off of the
raspberry
and
rose
bushes, and dropping them into jugs of soapy water. Still they seem to have a robust population in areas where they occur, including urban centers that have the plants the adults feed on (over 400 species documented) and grassy soil for their grubs to overwinter in. And they continue to spread, being found in San Diego for the first time in 2000, and at an airport in Montana in 2002.
Japanese beetles are often encountered in what appears to be mating groups. Females produce sex pheromones that attract many males, who compete for the opportunity to mate in large clusters. According to one researcher, relatively little mating actually occurs in these groups. Males will guard their chosen female from other males until she is ready to lay her eggs. At least while clustered, they can be easily picked off of plants.
Skunks
are known to make holes in lawns digging for Japanese beetle larvae, and moles and
raccoons
may eat some grubs as well. Other known predators of Japanese beetle larvae include
ants
and
ground beetles
. Few creatures seem to prey on the adults, though this observer has noticed at least one
turkey
seems to have a taste for them.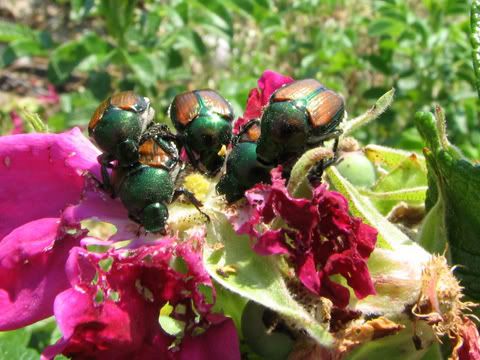 Latest Month
December 2016
S
M
T
W
T
F
S
1
2
3
4
5
6
7
8
9
10
11
12
13
14
15
16
17
18
19
20
21
22
23
24
25
26
27
28
29
30
31