Thanks, everyone, for the congratulations and well-wishes. I'm making my 2011 blog project directly related to the house and the land it is on, so be prepared to be well sick of that half acre in a few months.
But I want to tell you about a field guide I picked up the other day. Actually, I picked it up in the summer and put it right back down. "Wild Urban Plants of the Northeast," sounds pretty perfect for me. But I was adamant about not getting new books, as I'm trying to whittle things down, not build them up. I already have a few decent weed and wildflower guides, and the great Sibley tree guide.
So I was back in that store a month later (the Audubon shop, attached to Drumlin Farm, where I was teaching a mushroom class) and it was still there. I picked it up again and opened it at random. It opened to pp.152-153, New England hawkweed
Hieracium sabaudum
. Instantly I recognized it as a very common plant that I've had a lot of trouble identifying, as seen
here
.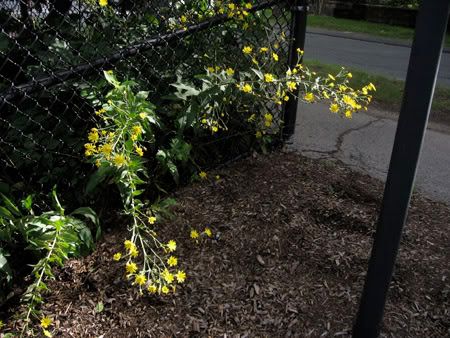 I took this picture in September of 2006, when I was in the thick of the 365 project, and desperate to identify this ubiquitous plant. The experts on my friends list agreed it was probably Canada hawkweed
H. canadense
. That didn't feel right to me, and I didn't end up using it in the project.
The first paragraph in the listing in the field guide reads "Even experts have trouble distinguishing this highly variable European species,
H. lachenalii
, and a native North American species
H. canadense
. Seeing this problem solved so elegantly (reading the rest of the description of
H. sabaudum
, especially the habitat requirements, made it plain that it was the species I was trying to identify) on the first page I opened to, clinched my decision to buy the book.
I honestly haven't had much chance to use it since I bought it, as most of our wild plants are on the wane, with only some tansy and some asters persisting. But I have flipped through it and have found it quite readable and straightforward. I've tested it a few times by looking for specific plants and I haven't stumped it yet. Some of the plants I've looked for have been included as a sidebar to another species (Pennsylvania smartweed appears on the page that describes pale smartweed--another common weed that has
flummoxed me
for years).
The Preface explains that the book was inspired by a trip the author made to
Spectacle Island
(a Boston Harbor island consisting of a capped landfill that is now a park, where we had an urban nature walk back in July 2006) so I knew he was local. The book covers Detroit eastward, south to Washington D.C. Still I was stunned to see this photograph: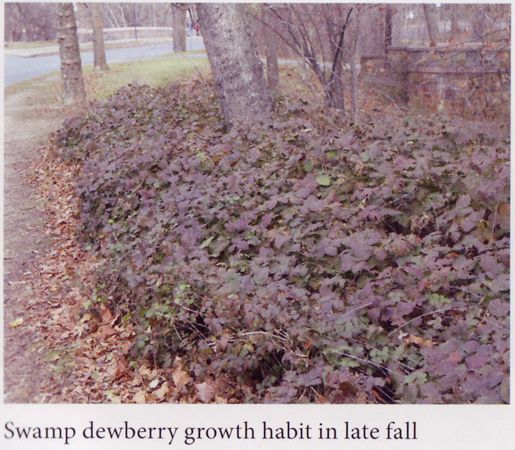 This is literally across from my front door, as in: if I am standing on my front step looking straight ahead, that's what I see. You see the reddish stone stuff in the upper right of the photo? That's the arched footbridge over the Muddy that I've taken 5000 photos of, especially during
the Muddy River project
. Kind of freaky. Also embarrassing, as I have eaten berries from that bush, but was unsure of the species (
Rubus
can be a tricky genus). I have flipped through the book to see if there are any other places I recognize, but so far I haven't.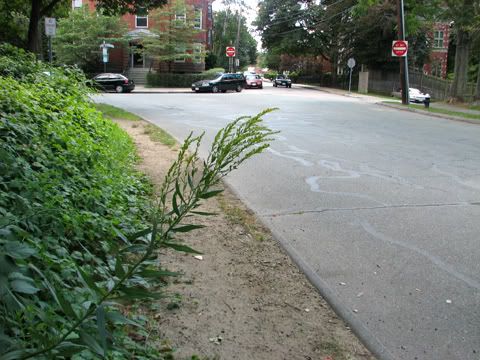 Alexis took this picture standing among the swamp dewberries, looking back at our front door.
So I guess what I'm saying is, any field guide to urban plants of the northeast that uses a picture of berry bushes from in front of my house is okay with me.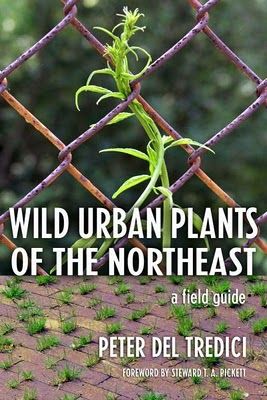 Wild Urban Plants of the Northeast, A Field Guide. Peter Del Tredici. Cornell University Press 2010. The price on the cover is 29.95, but it seems to be pretty reliably about 20 bucks online. Well worth it.