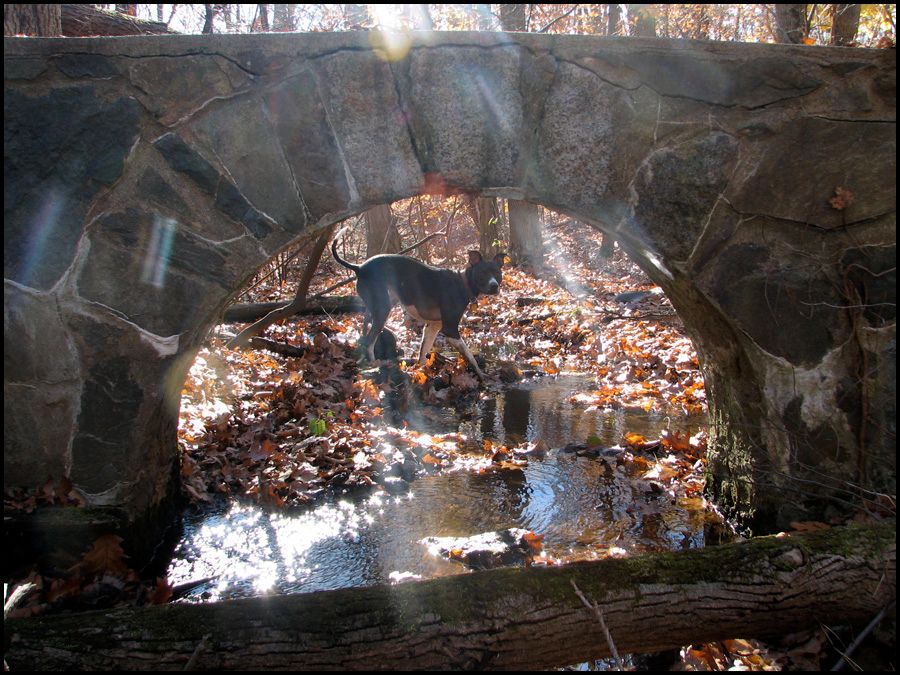 Allandale Woods.
I went there with Charlie while Alexis took Maggie to dog school. Soon after I got there, I got it in my head to do something Alexis would never do: walk along the top of the wall in the woods. The wall is stone and cement, built sometime in the early 20th century to delineate property lines that have since lost meaning. The wall begins at a sidewalk at the corner of Centre street and the VFW parkway, goes up the hill between the rehab center and the church, goes mostly straight through the woods, with a couple turns and breaks, for about a mile. It ends at the rotary where the VFW parkway and the West Roxbury Parkway meet. The wall walk is a pretty interesting one, and I'm considering doing it as an Urban Nature Walk, though it's more challenging than most. This photo was taken where the wall has an arch built into it to allow one of the Bussey Brook tributaries to pass through. I had to drop Charlie's leash to jump down to get the picture; he took the opportunity to chew on big sticks in the stream.
Amazing. Alexis posts that she has stuff to give away, and her friends actually want it! Well, it IS Hello Kitty stuff.

We did the first cut of knick-knack items, and filled one box. It was surprisingly easy to look at items that I once considered indispensable enough to put up on a shelf to gather dust and dispense with them. Even the Simpson's stuff! Anyone want any Simpson's stuff?

I also brought one box of books and one box of CDs to the library and left them on their loading dock, per their instructions on their website. Also surprisingly easy, considering I spent good impulse internet money on many of those books from Amazon.com. You may ask, why don't I sell them back on Amazon, or Ebay, or half.com or whatever, and those are one good question split into many, with one disappointing answer which is I am terribly lazy. The more effort I put into dispensing with my things, the more depressed I get, and with winter and the horrible xmas holiday essentially upon us (they are upon us, go to a store and see) I don't need any other reasons to be depressed. Especially considering my life is pretty excellent and I have no reason to be depressed, except for, you know, the brain chemistry thing.

I have several more loads of books to dispense, and since I've tried arranging them by who might want them, subject, and size, and different times, they are completely random. Wicca, natural history, humor, photos of the earth from space, you name it, the usual kinds of stuff people get rid of when they move. Or are planning to move at an as-yet undetermined time in the probably near future.

So if you want anything I used to own, let me know. Let me know especially if you live in the area and are willing to drive by my house and pick the stuff up off the curb, because that's the level of effort I'm willing to put into this. Or if you want any of my old books or CDS, just check them out of the Brookline Library.