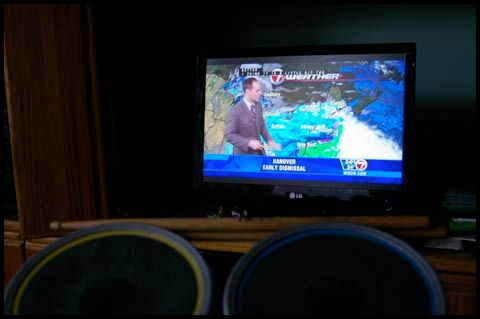 Home early for a predicted snowstorm, we take a break in the Rock Band playing to see the weatherman admit he blew it: no big storm for Boston.
This is very important. They have made
ice cream featuring the best girl scout cookies
. I don't want to hear from you thin mints people.
I'm not buying any new t-shirts until I unload a few dozen of mine. But when I do, I'd like
this one
. Or
this one
. Or
this one
. Or
this one
. That reminds me, would anyone like any of my old t-shirts?
When I lived in San Francisco for a short time, I was taken care of by a wonderful
Granny
, who loved art. Her house was not just full of art, it was made of art. One of the artists who made her house was a collage artist named Jason Mecier; he did amazing mosaic assemblage portraits, often of pop culture icons. It's good to see he's still active and producing
relevant work
.
Cartoonist and animator Nina Paley has taken on various causes in her life that have occasionally become more high profile than her comics. Lately she's been examining the problems with copyright law, and how it restricts artists from building on the work of others. She's produced a wonderful video addressing the long tradition of derivative art (embedded below), and then
detailed the process of making the video
(hint: she took lots of pictures at the museum).