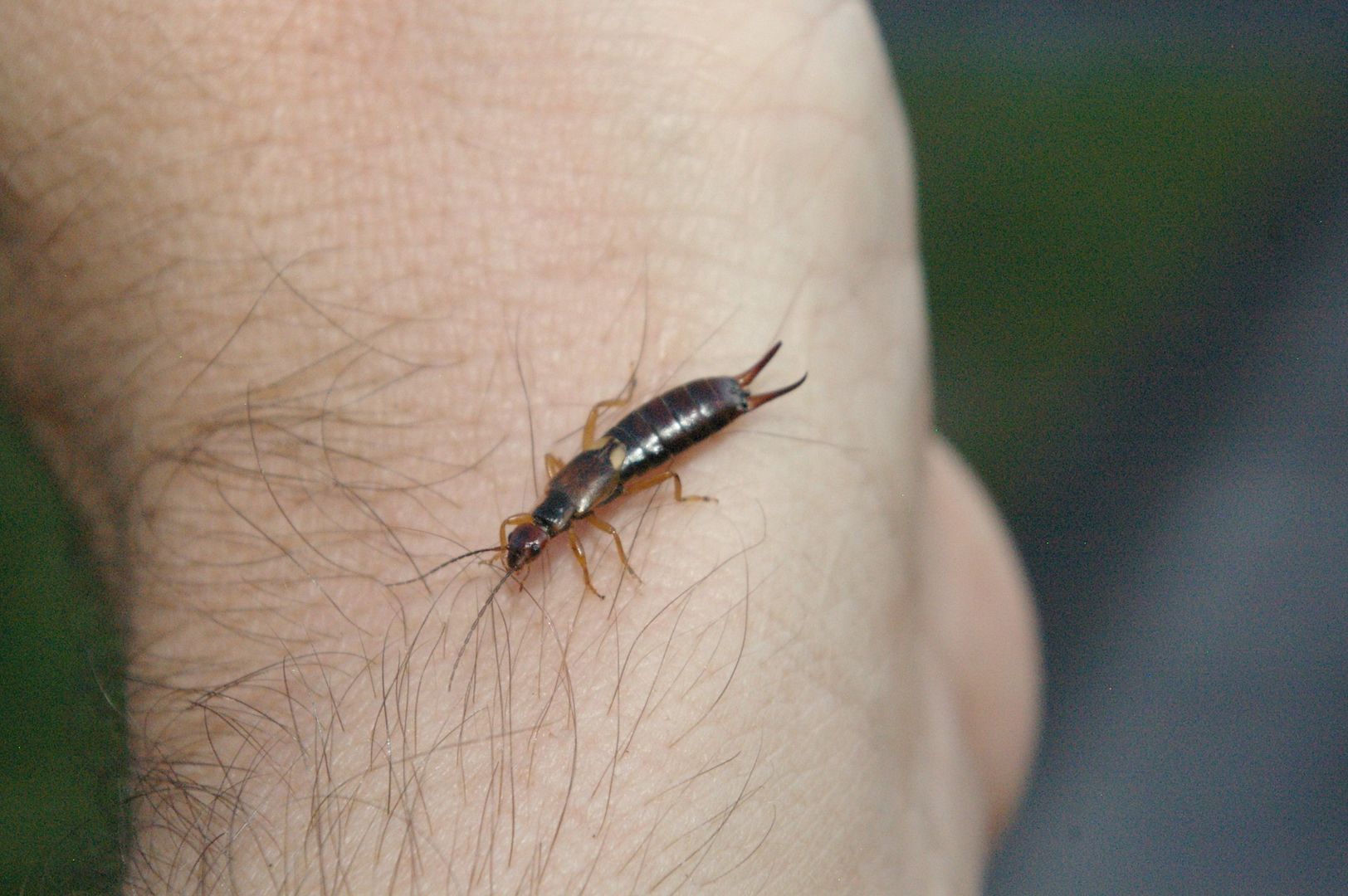 If you are a North American and you have ever seen an earwig, the chances are very VERY good that you are familiar with the European earwig
Forficula auricularia
* According to
my go-to insect guide
, "In the early 1900s, European earwigs were introduced to Rhode Island, and quickly spread across the country." It's nice to lay the blame on a neighboring state, since Massachusetts is responsible for a great many Old World invaders.
Earwigs are essentially harmless, causing only psychic damage if--for example--they suddenly appear in from a child's toy that was left in the yard over night. I've recovered from that shock, as you can see by this photograph. The alarming "pinchers" are anatomically the same as the vibration-sensing cerci of cockroaches and silverfish. Earwigs make a show of bending those cerci at you if you try to pick one up, but apart from perhaps some large tropical species, they can't actually pinch you with them. There are a few native North American species, but I am confident I have never seen one--every earwig I've found roaming the sunflowers, or hiding in the cracks of the chicken coop, or harboring in the folds of anything made of fabric left outside overnight, has been a European.
They are opportunistic omnivores, sometimes eating aphids from your garden, sometimes damaging your garden plants, probably more often doing something entirely neutral. What they don't seem to do, despite folklore and their name, is habitually enter human ears.
This gross list includes cockroaches, fly larvae, and actual parasites, but not earwigs.
It may have happened at some point in history--there are a lot of humans sleeping on the ground, and a lot of earwigs out there, but it's not a typical part of their natural history.
*Little scissors of the ear
Current Music:

Baroness - Little Things
Latest Month
December 2016
S
M
T
W
T
F
S
1
2
3
4
5
6
7
8
9
10
11
12
13
14
15
16
17
18
19
20
21
22
23
24
25
26
27
28
29
30
31