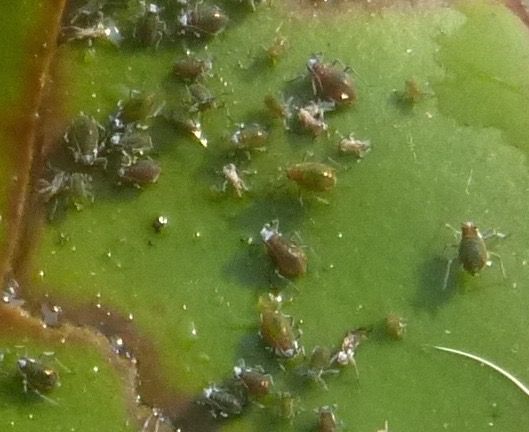 Charlie and I were at Turtle Pond. I noticed a water lily leaf decorated with specks, like someone had shaken pepper over it. "Oh boy! I can get some springtails into my project," I thought. But when I got the leaf close enough to examine, the specks didn't move--springtails would have jumped all over the place.
The specks turned out to be water lily aphids
Rhopalosiphum nymphaeae
* which are slow and flightless. They start out living on plants in the
Prunus
group (cherries and plums) in the spring. Then some of the population is born with wings--these fly to water plants and live out the summer there. Later they migrate back to the fruit trees, where the eggs will overwinter.
*Club-tubed water-lily eater.
Current Music:

Tone - Galvanized Mass
Latest Month
December 2016
S
M
T
W
T
F
S
1
2
3
4
5
6
7
8
9
10
11
12
13
14
15
16
17
18
19
20
21
22
23
24
25
26
27
28
29
30
31