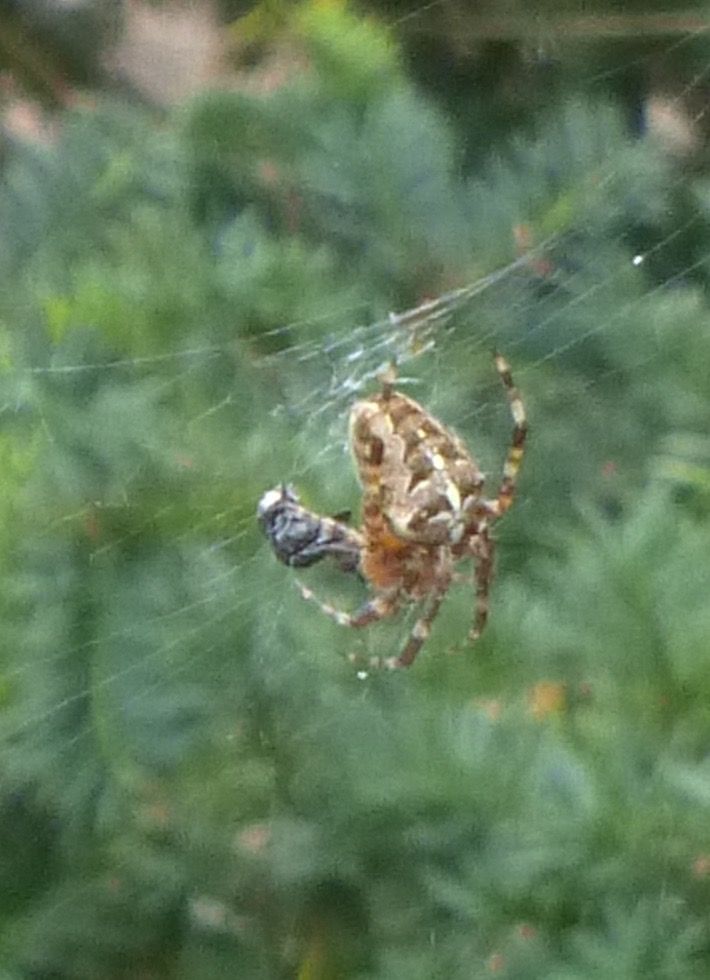 When someone local (Boston area) says they saw a huge spider in a web, this is my first guess: cross orbweaver
Araneus diadematus
*. This spider has seemed more common in recent years, but that may be my impression since I've realized what they are. These are what across the pond they simply call "garden spiders." We also have garden spiders in eastern North America, but they are a different, larger, yellower species. In fact, it seems to me that I haven't seen a native garden spider in years, while I keep seeing more and more cross orbweavers. Not that native garden spiders are disappearing--friends and acquaintances post pictures of them regularly, usually terrified that something dangerous is in their yard. Neither garden spider is at all dangerous to humans of course.
*Araneus is simply "spider." Diadematus comes from diadem:
The word derives from the Greek διάδημα diádēma, "band" or "fillet",[1] from διαδέω diadéō, "I bind round", or "I fasten"
. Apparently this specific name comes from the spider's "crown-shaped" markings, but I am fond of this double meaning for this animal that binds others.
Current Music:

Jonathan Richman and the Modern Lovers - Old World
Latest Month
December 2016
S
M
T
W
T
F
S
1
2
3
4
5
6
7
8
9
10
11
12
13
14
15
16
17
18
19
20
21
22
23
24
25
26
27
28
29
30
31