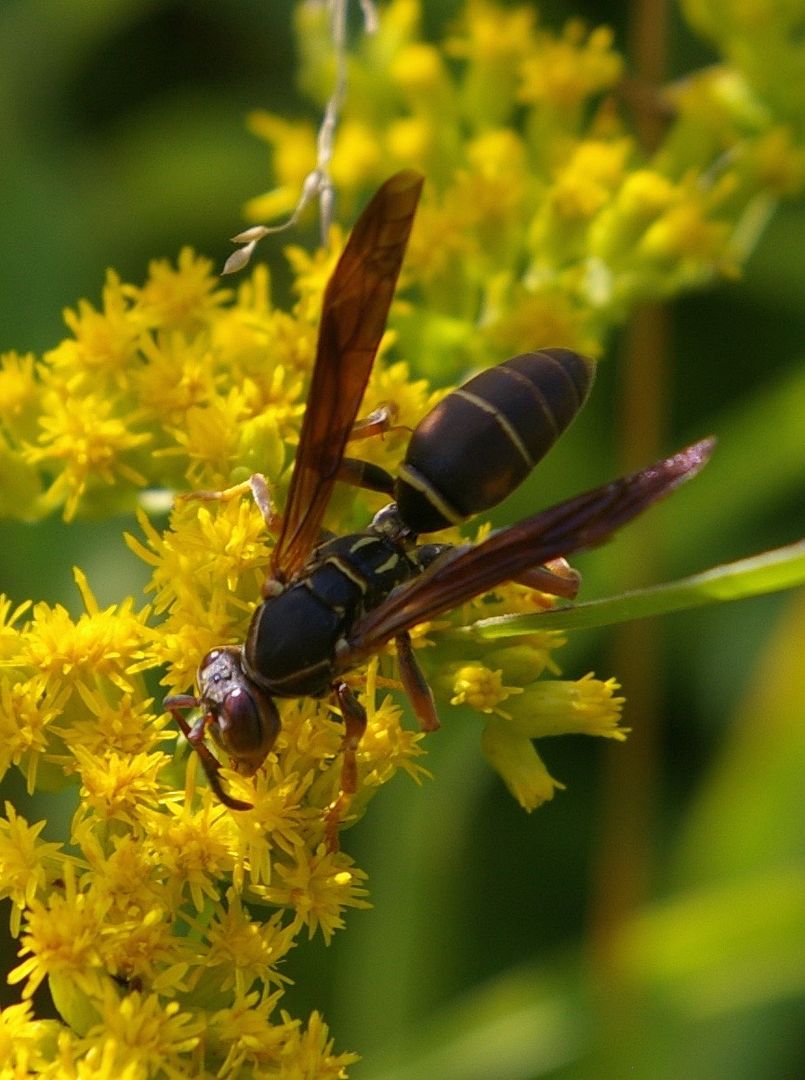 I stopped along the expanse of goldenrod to look at a small wasp. In the field, I was sure I would not be able to identify it without a lot of help. Once I blew up the picture and looked at it, I recognized an old friend--smaller perhaps than I remembered her, but unmistakeable in her red outfit with yellow stripes. This is a native paper wasp--I'm so used to seeing the invasive European variety that I'd forgotten what to look for.
Two experts that I've consulted disagree, albeit slightly, on what species we're looking at here. One says that it's the species that was more common before the European displaced it, the northern paper wasp
Polistes fuscatus
.* Another somewhat more intriguing theory, is that it's
P dorsalis**
one of the smaller species in the group, more common in the Southeast but known to occur in Massachusetts. Either way it's a native social wasp, peacefully drinking nectar and pollinating native goldenrod.
* "Smoky-colored founder of the city"
** Dorsalis refers to the back of the body. Dunno.
Current Music:

Radiohead - No Surprises
Latest Month
December 2016
S
M
T
W
T
F
S
1
2
3
4
5
6
7
8
9
10
11
12
13
14
15
16
17
18
19
20
21
22
23
24
25
26
27
28
29
30
31