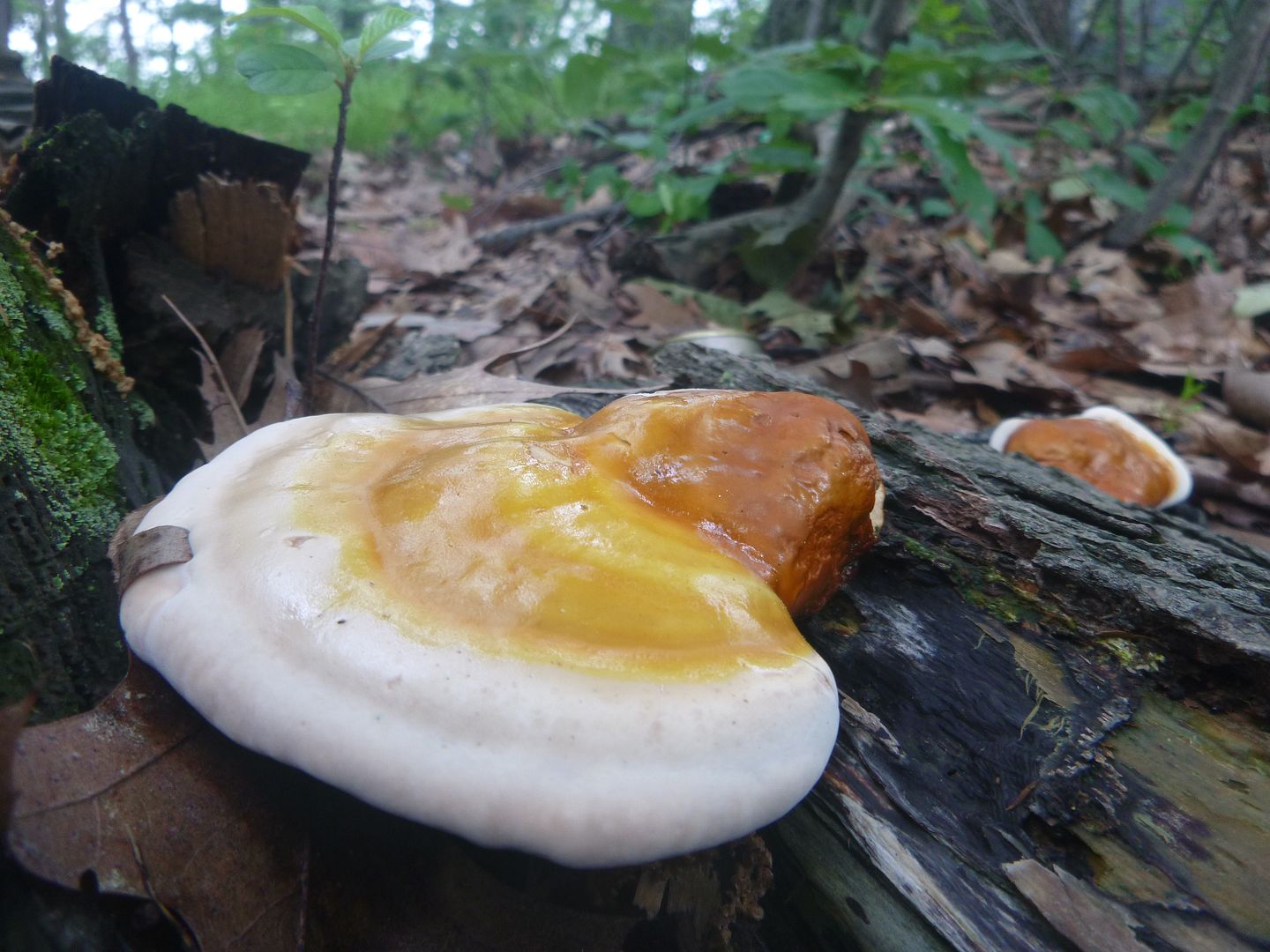 Sometimes a mushroom can only be identified to species if you know what kind of wood it's growing from. If these Reishi (or "Lingzhi"*) mushrooms are growing from a conifer, then they are
Ganoderma tsugae
.** If the dead log is from a hardwood tree, they are
Ganoderma lucidum
.** Either way they are part of a species complex of similar-looking glossy durable fungal fruiting bodies, valued in Asian traditional medicine for a very long time. There are many products available containing reishi mushrooms or their purported essence, including
chocolate
,
tea
, and
coffee
.
There are kits to grow your own
, or you can wild forage it--it's a pretty common group of wood-decaying mushrooms.
* ...
Lingzhi is made up of the compounds ling 灵 "spirit, spiritual; soul; miraculous; sacred; divine; mysterious; efficacious; effective" (cf. Lingyan Temple) and zhi 芝 "(traditional) plant of longevity; fungus; seed; branch; mushroom; excrescence"
.
**
[Reishi mushroom's} botanical names have Greek and Latin roots. The generic name Ganoderma derives from the Greek ganos γανος "brightness; sheen", hence "shining" and derma δερμα "skin". The specific epithet lucidum is Latin for "shining." Tsugae is derived from the Japanese word for "hemlock" (tsuga 栂).
Current Music:

Elvis Costello - (What's So Funny 'Bout) Peace, Love and Understanding
Latest Month
December 2016
S
M
T
W
T
F
S
1
2
3
4
5
6
7
8
9
10
11
12
13
14
15
16
17
18
19
20
21
22
23
24
25
26
27
28
29
30
31