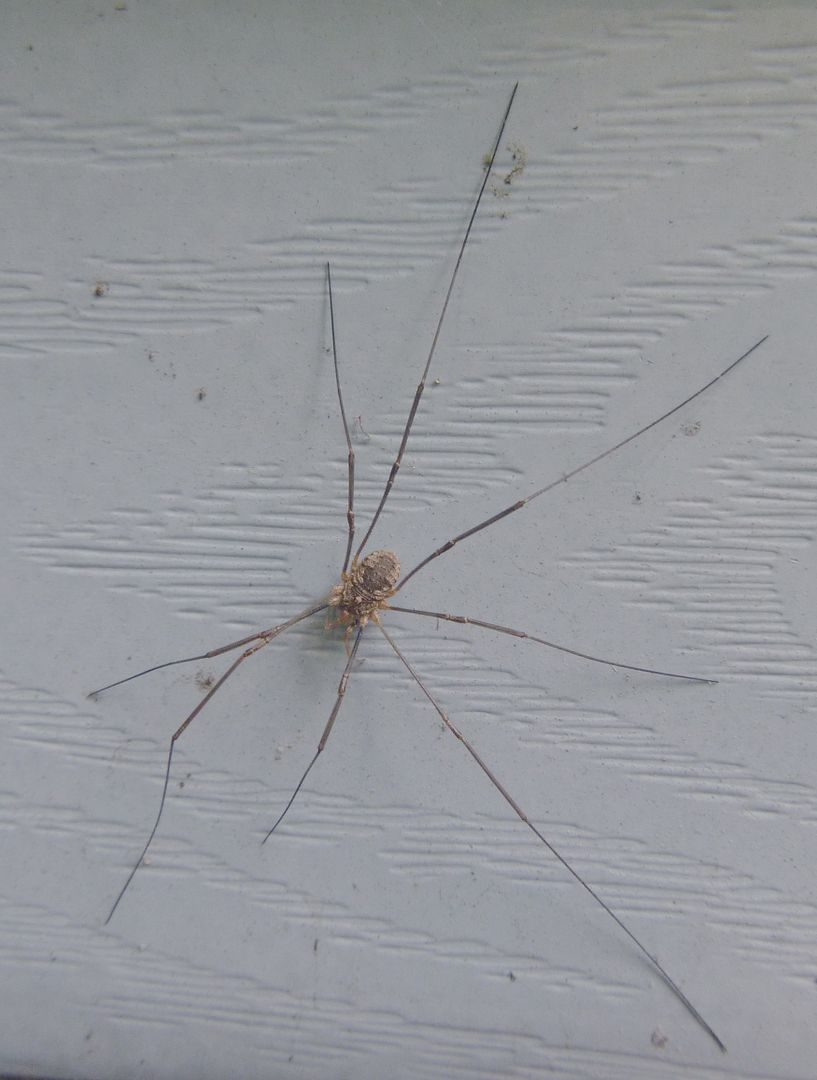 I done screwed up. Fewer than 50 entries in I already posted a double, adding a
second cellar spider entry at #48
when there was
an existing one at #2
.
To make up for my blunder, here is a different animal which sometimes shares a common name with the former
#48
: "daddy long legs." These omnivorous scavenging arachnids are very different creatures, and separate from spiders, in their own order, Opiliones.* When someone refers to one of these things as a spider, I mark it in my brain as a very particular kind of flag. Mistaking this fragile
fangless
beast with its fused body segments and mite-like overall symmetry for a spiders tells me that you aren't looking at the same aspects of the animal that I am. The fact that one of my arachnophobic coworkers is afraid of Opiliones as well, is fascinating to me.
This animal suffers from common names both overabundant and entirely inadequate. Most guides settle on "harvestman," a word that's never settled well with me. "Opiliones" is a mouthful, and "daddy-longlegs" refers to several unrelated animals and is spelled differently every time you look at it.
* "Opiliones" derives from a word for shepherd. Apparently at some point of time and space sheep-herders stood on stilts to watch their flocks? I don't even want to know what the justification for the word "harvestman" is.
Current Music:

The Dead Weather - The Difference Between Us
Latest Month
December 2016
S
M
T
W
T
F
S
1
2
3
4
5
6
7
8
9
10
11
12
13
14
15
16
17
18
19
20
21
22
23
24
25
26
27
28
29
30
31