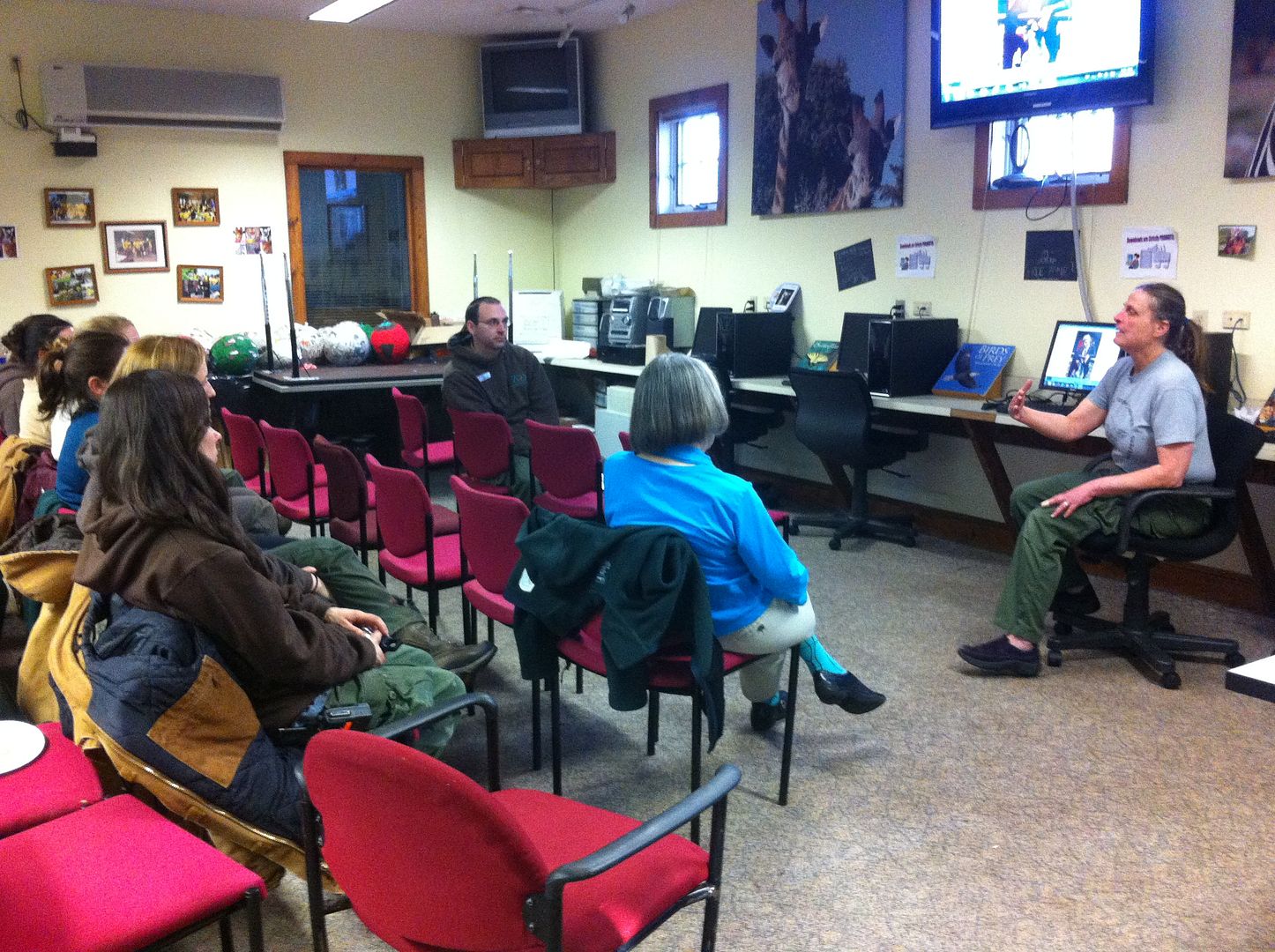 Our AAZK chapter has a monthly Professional Development Speaker Series. Yesterday we hosted Sandy, a zookeeper who has worked for Stone Zoo for over 30 years. When she started, the zoo was run by the parks department all the other employees were older men with no college education or formal training in animal care. She was among the first female zookeepers in the system.
She and her colleagues started the Zoo New England AAZK chapter back in the 80s, with an eye toward improving professionalism at Stone Zoo and Franklin Park Zoo (at that time collectively referred to as the Boston Metropark Zoos). At the end of the 80s the zoos had their funding slashed by 3/4. The zoo accreditation authorities said that the Boston Metropark Zoos could not remain accredited under this situation, and Stone Zoo lost its accreditation.
The state decided to close Stone Zoo, moved over 300 animals to other zoos, and demolished 10 buildings. Sandy stayed on as the only zookeeper, taking care of the few animals that could not be placed: Major, an elderly polar bear (he died in 2000, as the second oldest polar bear to ever live in captivity) and a few sea lions.
In 1992 the energy of the community and actions of some politicians worked together to bring Stone Zoo back. Only a few exhibits were open, but over 10,000 visitors came to the reopening day. Over time more exhibits were added, emphasizing North American animals--since there were fewer buildings to house animals in the winter--as well as South American and Asian animals. A Mexican gray wolf exhibit switched the emphasis of the zoo from easily seen exhibit animals toward conservation and animal welfare.
Zoo New England continues to struggle with funding, but now is run by a non-profit corporation. A little less than half of the funding comes from directly from the state legislature, the rest from memberships, gifts, and admission. Stone Zoo's holiday event "Zoolights" provides a significant amount of the winter funding for the zoos.
Current Music:

Buzzcocks - Whatever Happened To?
Tags:
Latest Month
December 2016
S
M
T
W
T
F
S
1
2
3
4
5
6
7
8
9
10
11
12
13
14
15
16
17
18
19
20
21
22
23
24
25
26
27
28
29
30
31