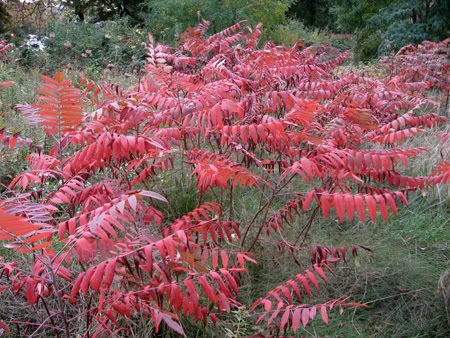 Photos by
urbpan
. Location: Olmsted Park, along the Jamaicaway. This photo depicts smooth sumac.
Urban species #287: Staghorn sumac
Rhus typhina.
Urban species #288: Smooth sumac
Rhus glabra
.
If a vacant lot or other cleared area is left unmowed long enough, it almost inevitably grows sumac. At least that's the case in eastern North America, where several species of this genus of weedy shrub grow. Sumacs prefer disturbed soil and bright sunlight. Often
Ailanthus
trees are confused with sumac, because both types of plant have similar compound leaves, and both aggressively colonize open areas in the city.
Ailanthus
will grow in shadier areas and in lower quality soils, and also tends to grow very straight, while sumac stems grow at angles, looking quite shrubby. Also the margins of sumac leaves are usually saw-toothed, while
Ailanthus
leaflets are smooth along most of their edges.
Staghorn sumac is named for the fuzzy upper stems of the plant, which resemble antlers in velvet. Smooth sumac is very similar in appearance to staghorn, but lacks the coating of small hairs. Staghorn sumac is more likely to grow in marshes, river edges, and drainage ditches, while smooth sumac tolerates only dry soil. According to
Duke University
, smooth sumac is the only shrub or tree that is native to all 48 contiguous United States. Staghorn sumac is found mainly in the eastern states and provinces. The fruit of both plants is a cone of hairy bright red berries (botanically speaking, they're "drupes," in case you're keeping track) that are attractive to birds, who will eat the seeds and spread them in their droppings. Humans can put these fruits in water, and strain and sweeten the result, for a lemonade-like drink. Native Americans apparently used sumac in conjunction with tobacco, using the fruit and the leaves for this purpose.
Sumacs spread by rhizome (underground stems) and can form dense stands. This attribute leads some authorities to consider sumacs to be invasive, but they generally are not invasive outside of disturbed areas. More often sumacs are praised for their amazing fall colors. Sometimes they are called "flamingo trees" for their color and posture. Their bright scarlet colors can be dramatic, and when the red leaves drop away, the red fruits persist, held up high for all to see (and for the birds to feed on) in winter.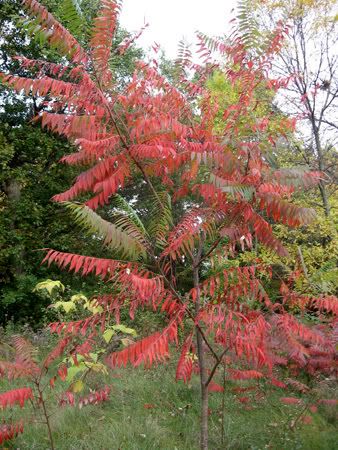 Staghorn sumac.
(
Read more...
Collapse
)