I'd be curious to know if you guys noticed or think there's anything better about each aspect ratio set. Any opinions?
Sorry, been trying to catch up with pictures so it probably seems excessive by now. One thing I've noticed is that I kind of accidentally changed the aspect ratio of my pictures, so that the last few are in the cinemascope ratio while previous to that they were like television. I have to say, this one little change makes me like the pictures better--don't know if there's an actual qualitative difference, but I'm happy for now.
Current Music:

Sex Nerd Sandra Podcast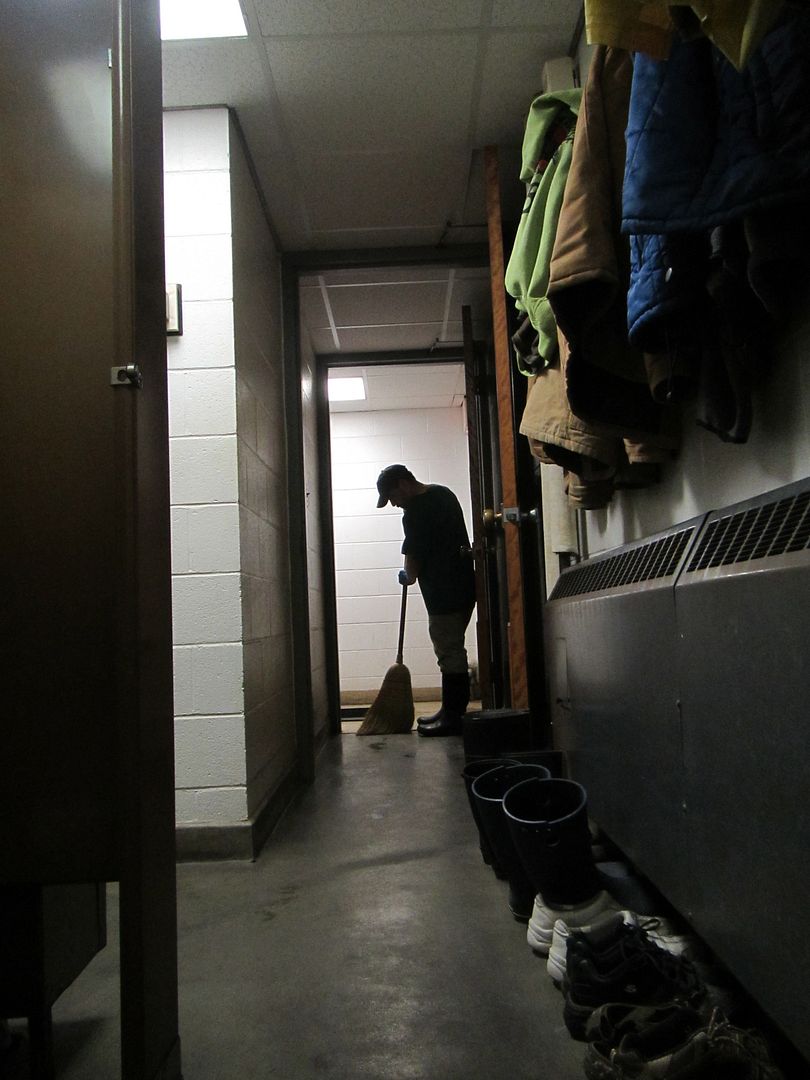 I can't see the number of this snapshot without thinking of the Cambridge coffeehouse of the same name.
That out of the way, is this snapshot spooky enough to add to our collection of zoo horror movie stills? I kind of think it's not--that guy sweeping doesn't seem like he's going to kill or get killed. It looks like a statement about the dignified loneliness of sweeping a floor. I dunno, what do you think?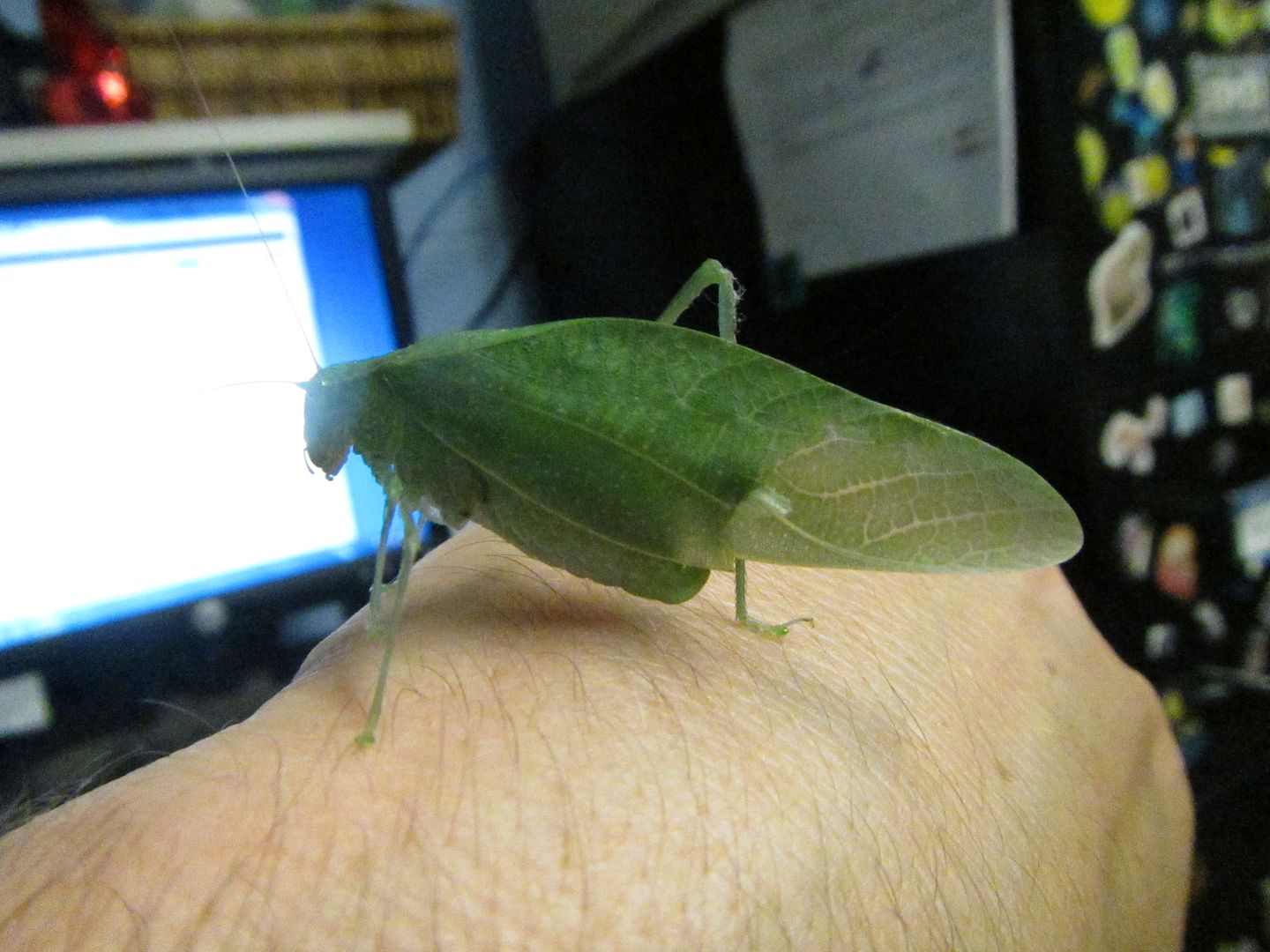 And what to make of a greater angle-winged katydid with a damaged wing, found deep in a basement zookeeper's lounge in the Tropical Forest exhibit?
Current Music:

Firewater - Three Legged Dog

A: Probably not.

Q: What does it do?
A: It gathers energy from its environment and makes copies of itself.

Q: What is this thing good for?
A: It's a natural part of its ecosystem, creating balance through controlling other species and providing energy for yet other species that feed on it.

Q: How do I get rid of it?
A: By drastically altering your property or changing your behavior in a way that is unacceptably inconvenient to you. Even then it will probably come back.
Q: Will this thing hurt me?


What say you? Big pictures okay, or should I find a way to squink them down a little?
Hey everyone! Since I've used up my LJ scrapbook storage, and lost my photo manipulating software, I have less control over the size of my photos. I could make an effort to ensmallen them somehow, if it's annoying to see giant pictures on your friends' page. I'm not even sure if they aren't so big that they throw off the dimensions of the page for you.
Current Music:

Guided by Voices - Useless Inventions


Thanks in advance, Blessed Be, Do what thou wilt, I love you.
I know the various names for the days in between the equinoxes and solstices, but are there names for the half-seasons that occur within? Is there, for example, a different name for the part of spring that begins March 21st (or thereabouts) and comes to an end in a couple days to distinguish it from the time period that begins on the First of May and culminates with the Summer Solstice? I assume that there are already names in place, and I won't have to continue the process bubbling in my brain right now to come up with names for them.
Current Music:

Jonathan Coulton - First of May
One of the neighboring houses has the worst/best driveway I've ever seen.
(
Read more...
Collapse
)
Or since we're only on the one island is it a lesser antille?
Current Music:

"Sugar Rush Showdown"
http://deepseanews.com/2013/02/this-is-why-we-cant-have-nice-things/
"Why is it that we seem to have moved away from celebrating images like the one above left (a big game hunter posing over a dead African lion) yet seem to have no problem with the the image above right (a fishing party with their 1,320 pound dead Blue marlin caught off Ascension Island in the South Atlantic Ocean)?...Why do we seem so resistant to seeing fish (marlin, shark… whatever) as wildlife?"
Or the way I put it: Is posing with a dead, hunted predator tacky/classless/unacceptable? What if that predator was a fish?
Some good discussion developed on Facebook (of all places) when I posted a link to this:
Landscape with melted snowman.
(
Let the festivities begin!
Collapse
)
Can you find me a potato bug?
Well the good news is that the Species of Least Concern website is up! The bad news is that the reason we created it--to be able to submit the podcast to iTunes--is moot, since the hosting company will not make it possible. I don't understand the technical jargon, but it boils down to me needing to give somebody more money for something I though I already paid for. I'm fine with the podcast eating up more of my time and energy, but I draw the line at it eating up my money (except that I'm on the verge of buying a microphone). If anyone knows a free and easy workaround to get my podcast up on iTunes I'd be grateful.