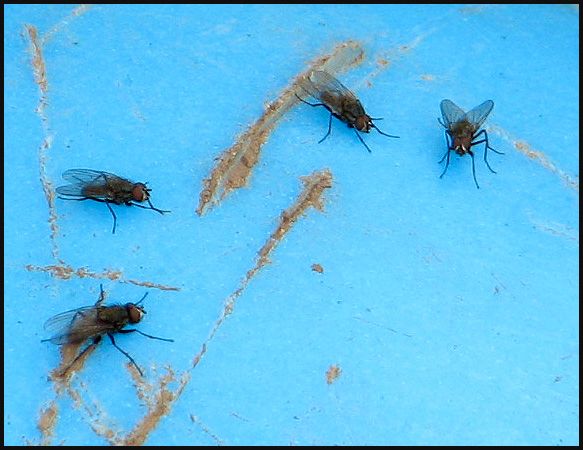 A group of little house flies (
Fannia canicularis
) converged on a dog ball in the side yard.
The little house fly was 365 Urban Species #
054
, and on that entry there's some good natural history information, such as the fact that fly's larva is studded with spikes for swimming through semiliquid chicken manure (and I think may have been the inspiration for the monsters from
Tremors
). What's more interesting, and I only know a little about so far, is this insect's unique behavior. They circle and swarm in a distinctive way, sometimes indoors, males engaged in some kind of territorial display. In the above picture, a group of males are altogether on a light blue ball. An identical red ball next to the blue one had only one fly on it. When I disturbed them from there, they re-converged on a white plastic bag of topsoil. Something about the light colored surfaces seemed to be attracting them.
Tags: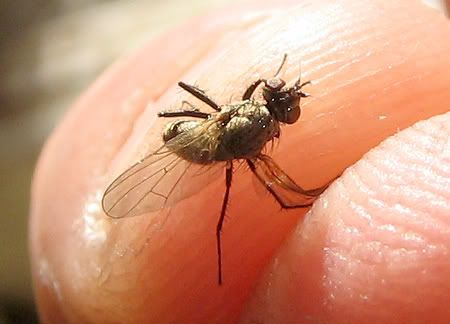 Urban species #054: Little house fly
Fannia canicularis
The little house fly (distinct from the common house fly
Musca domestica
) comes indoors to seek warmth, but prefers access to poultry manure to breed. It seems likely that its association with humans first occured when humans began to associate with chickens. While house fly larvae are familiar white maggots, the larva of this fly (also called the lesser house fly) is brown and has fleshy spines. The spines help the maggot propel itself through the soft manure that serves as its habitat and food. Flies are fairly adaptable animals, and if there is no chicken manure to live in, other decaying organic matter can suffice. Little house flies are considered pests, potentially carrying disease-causing bacteria from such matter to household surfaces. In some
especially rare and gruesome cases
, they have been implicated in urinary
myiasis
, and if you don't know what that means, you're probably the better for it.
Thanks to
badnoodles
for the identification.
Tags:
Latest Month
March 2014
S
M
T
W
T
F
S
1
2
3
4
5
6
7
8
9
10
11
12
13
14
15
16
17
18
19
20
21
22
23
24
25
26
27
28
29
30
31