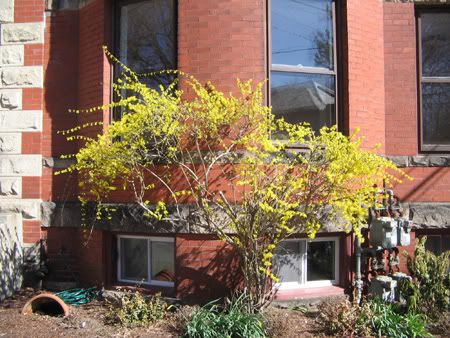 Urban species #091: Forsythia
Forsythia x intermedia
One source
I consulted for this article described forsythia, more than once, as "overused." I feel that it's kind of a shame to refer to a living thing with this term, but I also tend to agree. But you can't deny, in early spring, it's nice to see the profuse sprays of yellow flowers that this shrub produces.
There are seven species of
Forsythia
(one of many cultivated plants with no common name, referred to by its Genus), but a hybrid of two of them,
F. suspensa
and
F. viridissima
is what we see most often in the city. All forsythias are native to Asia, and came to North America at the turn of the last century. Now they are standard fare for Easter decorations, and have naturalized in many places. The yard of the house I grew up in, in the Pioneer Valley area, there are several large forsythia bushes, some of which formed tepee-like clubhouses. They were hardy enough to withstand vigorous cutting and replanting, as when my brother intended to create a kind of courtyard with them.
Forsythia shrubs provide shelter for birds and rodents, but do not provide much in the way of food for native wildlife. Forsythia fruit and seeds are used in traditional Chinese medicine, but i've never seen anyone collecting them (unlike gingko and burdock--two other urban plant species with herbal roles). The value of forsythia is almost entirely aesthetic. It proclaims, "Spring is here, no question!"
(
three more
Collapse
)
Tags:
Latest Month
June 2015
S
M
T
W
T
F
S
1
2
3
4
5
6
7
8
9
10
11
12
13
14
15
16
17
18
19
20
21
22
23
24
25
26
27
28
29
30