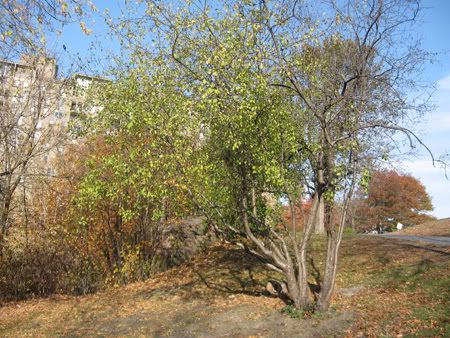 Photos by
urbpan
. Location: Olmsted Park, Boston.
Urban species #312: Common buckthorn
Rhamnus cathartica
Like
burning bush
, common (or more accurately, "European") buckthorn is an ornamental shrub that has become a nuisance. In wooded city parks, and areas just outside of the urban center, buckthorn can become a dominant woody plant, preventing native plants from thriving. Birds, who are responsible for buckthorn's spread, adore the clusters of black berries that the shrub produces, but do not derive adequate nutrition from this plant. Though songbirds are attracted to the fruit, which is persistent through winter, it doesn't have a high enough fat content to be a good food source for them.
Buckthorn resembles a small cherry tree, with shiny bark marked with lenticels (the horizontal dashes that
birches
and some other trees have) and simple roundish leaves. Their branches are studded with short thorn-like twigs, not unlike the "pins" on a
pin oak
. These structures not only give the plant its name, but make its removal a painful as well as arduous process. Many land managers, park workers, and volunteers can attest to the strenuous task of buckthorn removal. There are a few species of buckthorns, including another common Eurasian ornamental called "glossy" buckthorn, as well as a few native North American buckthorns, but these are rarely seen by city-dwellers.
(
berries and bark
Collapse
)
Latest Month
August 2015
S
M
T
W
T
F
S
1
2
3
4
5
6
7
8
9
10
11
12
13
14
15
16
17
18
19
20
21
22
23
24
25
26
27
28
29
30
31