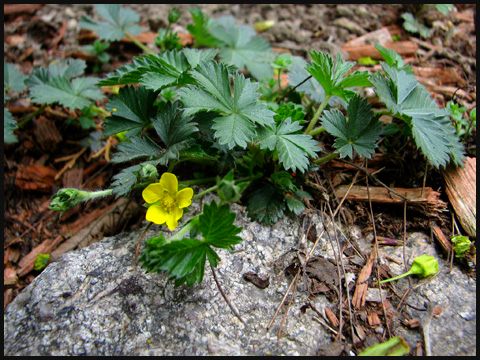 This one was near the gate between the side yard and the big yard and was one of the first to bloom, but now there's dwarf cinquefoil (
Potentilla canadensis
) all over the frickin' place.
Cinquefoil is another very innocuous weed of lawn and garden. I'm perfectly happy to let it be--like violet it's below weed-trimmer height, and it produces a nice little flower. It's a perennial, often the only green thing in a yard in winter, and spreads with vining stems, which probably annoys fans of monocultural grass lawns. My only problem with it is that at a glance it can be mistaken for strawberry--other cinquefoils with three leaf patterns instead of five are even worse.
When generic cinquefoil was 365 species #
33
(on February second!) it happened to be dwarf cinquefoil in the picture.