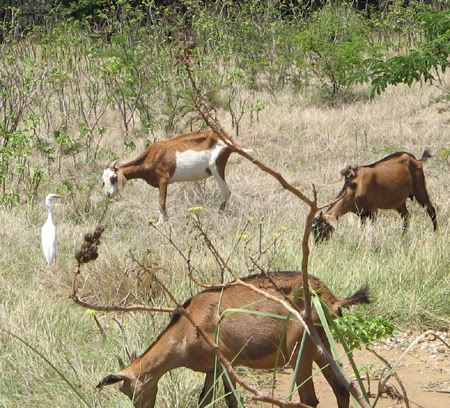 Urban species #110: Cattle egret
Bubulcus ibis
The cattle egret, unlike its swamp-dwelling relatives, like the
great blue heron
, is a creature of grasslands. It is an African bird, originally, that associates with hoofed mammals, including (obviously enough) cattle. It follows these animals around as they forage, stirring insects out of the grass, and feeds on these insects.
Over the past millennia, every so often some cattle egrets would cross the Atlantic and visit South America. Some time relatively recently, the egrets discovered that some of the forests had been cleared, and replaced with grasslands full of the kind of insects they liked to prey upon. They even found that humans had performed the great service of bringing
cattle
, of all things, to this new continent. Some egrets didn't return to Africa, and over time a permanent South American population of cattle egrets developed. Inevitably, they spread into the vast, cattle-filled landscape to the north.
In Antigua, the cattle egrets have their choice of livestock to follow around: Cattle (including at least two herds of African zebu), horses, sheep, and the ever present goats. The most efficient disturber of the grassland insects, however, is the power mower. Adaptable as always, the cattle egret follows these strange creatures as naturally as any cattle herd.
(
larger numbers, brighter sun
Collapse
)
Tags:
Latest Month
June 2015
S
M
T
W
T
F
S
1
2
3
4
5
6
7
8
9
10
11
12
13
14
15
16
17
18
19
20
21
22
23
24
25
26
27
28
29
30