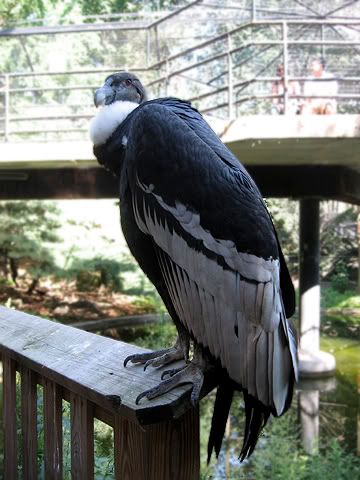 I decided I would continue to post every day, and that I would take a picture of a zoo animal each day that I work there. I can still do the 3:00 snapshots on days off. I don't know anything about this individual Andean condor. I photographed...her (I think the males have a comical head adornment)...because, honestly, she was the first animal on exhibit when I left my behind-the-scenes area, and I was eager to go home and see my wife and dogs. (Wife still isn't home, dogs are good.) I happen to like Andean condors a lot, and this one was perched close enough to the edge of the cage for me to get a picture without the cage mesh showing.
The Andean condor,
Vultur gryphus
, is the largest of the new world vultures, a group that includes the
turkey vulture
and is one of the largest flying birds. New world vultures are more closely related to herons and cormorants than they are to old world vultures. A diet of carcasses and convergent evolution have conspired to make both group of birds bald-headed, which avoids the mess of gore-sticky feathers. While turkey vultures live well off of the roadkill of American highways, condors (both Andean and Californian) are endangered, due to habitat loss and other human factors. Andean condors are part of American zoos'
Species Survival Plan
.
On this day in 365 Urban Species: I didn't have one! (I made up for it later.) I did post a nice series of pictures from
Discovery Park
in Seattle, however.