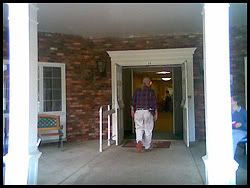 I've been on a little vacation from livejournal. Trying to figure out what I could cut back on to get more time in my life for bicycling and housework, eljay was an obvious choice. I haven't read my friends list since Saturday morning, and I doubt I'll catch up. If you had something important happen that I should know about, let me know. Or if you posted a cool bug photo looking for an identification, I'd like to know about that too.
I visited my dad this weekend. That's him up above going into the nursing home where my mother lives. She's wasting away; she weighs 90 pounds, which is probably half of the weight she was when she went in there 15 years ago. She can't eat by herself, and even when someone helps her she often aspirates her food. That's why Alzheimer's patients often get pneumonia. It's really odd to see her as a skinny old lady. I had to accept this time that this may be the last time I see her.
I still want to tell her story here, and I've written out a lot of what I know, and now I need to fix things that my father clarified for me. Today, as we wandered dirt roads in Union Connecticut, he told me that she was bold and adventurous, before her disease made her afraid of everything.
I enjoyed the weekend, spending time with my dad. We walked the Connecticut River Towpath today, as we did about this time several years ago. I knew more birds, was able to identify yellow warblers by song, and we saw signs that beavers live in the area. Charlie enjoyed swimming in the canal and being off-leash in a safe context outdoors.
Today we went to
Bigelow Hollow State Park
, a truly huge park by southern New England standards, definitely a bigger chunk of protected forest than anything I've been in in Massachusetts. Charlie swam himself sore; he's still on the couch three and a half hours after we got home.
On the way out of town I bumped into a couple Indian guys, a father and son, who were on their way to Six Flags when their car broke down. They were in a convenience store asking, with an edge suggesting desperation, to use a bathroom. The clerk told them that the nearest public restroom was a mile away, by the amusement park. I tidied my car a bit, shoved Charlie over to one side, and offered these guys a ride. I'm still astonished that the convenience store guy wouldn't let them use their lav. What's the big deal? I guess being so close to a big tourist attraction they must get hundreds of people asking every day, but come on, their car broke down and they were desperate! I was glad to help out, any way. I feel that since I didn't get my license until I was 30 that I have 14 years of rides to give back to the universe.
Unfortunately, Karma is mysterious and non-linear, and like luck, it requires your active participation. That's my explanation for getting caught in Red Sox traffic on my way home. The really stupid thing is that I had been watching the game a couple hours ago, so I can't claim ignorance, just thick-headedness. It was so frustrating to be less than a mile from home, poking through traffic for 20 minutes. At 2;30 I was a Red Sox fan; at 5;45 I hated all Red Sox fans.
I have a ton of pictures to fix up and share, most of which are silhouettes of birds. I'll try to be a ruthless self editor. Soon Alexis and I will be reunited. She's been in Vermont while I've been in Connecticut. Her pictures will be undoubtedly better than mine, but it will be nice for those of you who read both of our blogs to see pictures of different things for a change.
Charlie is always a little out of sorts when he visits my Dad. I think he's worried that I'm going to leave him there forever.
I should have mentioned it earlier, but Charlie is a big hit at the nursing home. It's amazing to see people who rot in their wheelchairs all day brighten up when they see him. Today one of the younger residents--a woman in her 40s or 50s with some kind of degenerative illness--showed some interest in him. She seemed physically unable to change her facial expression, but once she started petting Charlie, the corners of her mouth turned up ever so slightly, hinting the smile that she was feeling. The joy that the dogs bring us is nice, but the joy they can bring to people who otherwise live without it is something pretty miraculous.