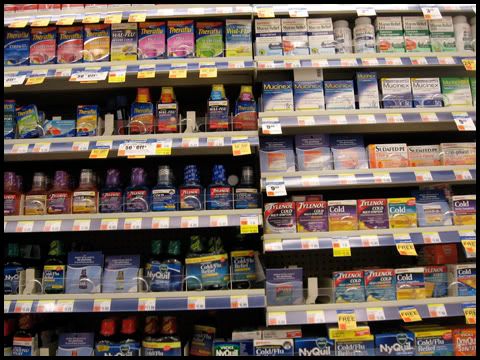 Decisions, decisions.
Walgreens, Harvard Street, Brookline.
I stayed home sick today, something that I almost never do. But I'm glad I'm not at work sneezing and coughing, and feeling like I have to lay down all the time. And I'm really really glad that I didn't spend any of the day wearing a paper surgical mask. I went through three of them in an hour yesterday. Sorry, you didn't need to know that.
I was thinking about my 20th reunion again, remembering dancing with my old friends to a short set of 80's pop metal. They asked for AC/DC, which they got ("She shook me") and then the DJ followed it up with Def Leppard ("Pour some sugar on me") and then it descended to Twisted Sister ("We're not gonna take it") and bottomed out with Warrant ("Cherry Pie") at which point I left the dance floor. I'd never heard that song all the way through before--there's about 45 seconds of material spread very thinly over 3 minutes. It starts catchy and quickly becomes excruciating. Probably that's what's been said about rock and roll for 60 years.
Hopefully I'll be feeling better tomorrow, I can't possibly take another day off. It's just a cold for crying out loud. I don't know what I'd do if I got really sick or injured; the guilt of calling in sick, even when it's necessary, is too much for me. It's nice to be in bed with the dogs all day, but those dishes and laundry aren't going to do themselves! To say nothing of the mousetraps I set in the ceiling in one of the work buildings; I've gotta check those right away.
Oh, one other thing. Both Alexis and I have seen our first
Juncos
of the second half of the year. That means it's really over. I love autumn and all, there's no denying that it's New England's most beautiful season, but it's so hard to enjoy it as it races by and leaves us with you-know-what. Poor Alexis blames the innocent Juncos for bringing the cold weather. She has her own pagan mythology, where summer flies in on the backs of the catbirds and winter flies in with the snowbirds. I note, looking at my archives, that this is 12 days earlier than I noticed them last year.
The weather this week has been typically schizoid, with a hot humid weekend shattered by breezy weather in the 50s and both promised and imagined downpours. The seers tell us that this is to be the only sunny day of the week, but they only admitted that much once the sun decided to stay for the day.
My mushroom class this coming Sunday
would be a humdinger, with all the moisture in the forecast, but so far only one person has signed up, and it seems likely to be canceled. Can't be too surprised about it though, when you realize that a
nearly identical class
is running at the Harvard Natural History Museum at the same time,
for free
. Heck, I'm half hoping my class IS canceled, so I can go to the Harvard one.
On this day in 365 Urban Species:
Groundnut
, a new discovery for my last year.