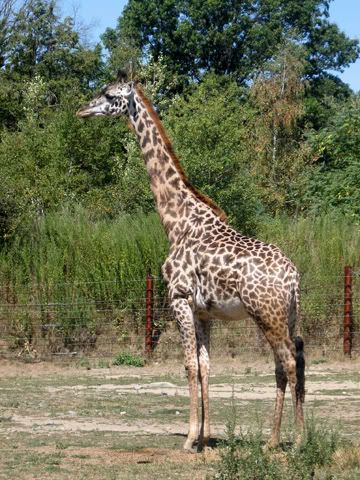 Masai Giraffe
Giraffa camelopardalis tippelskirchi
Giraffes are among the most bizarre of all mammals and the most familiar of all zoo animals. They are the tallest mammals (male Masai giraffes can be 18 feet tall) with extremely long legs and grotesquely long necks, adaptations for feeding at treetops. Their long black tongues grasp twigs, stripping acacia leaves from their thorny branches. Whole branches can be torn off and the giraffe's powerful molars can grind the acacia thorns up. Like most large mammals, giraffes are generally diminishing in population, though they suffer less from competition with domestic animals than some other African wildlife. This may be because domestic livestock forages on much lower growing plants.
This individual is Jana, "the most genetically valuable female Masai giraffe in North America." Currently, the giraffe barn is being renovated, and it is always possible for the Jana and her mate Beau to be on exhibit. When they are out, they are with the
Grevy's Zebras
, at Franklin Park Zoo.
On this day in 365 urban species:
Great golden digger wasp
. This post has a number of anonymous comments from people (apparently alarmed to find a big orange wasp in their yard) who found their way there via Google searches.
Tags:
Latest Month
September 2014
S
M
T
W
T
F
S
1
2
3
4
5
6
7
8
9
10
11
12
13
14
15
16
17
18
19
20
21
22
23
24
25
26
27
28
29
30