Lots of cool wildlife to see at Drumlin Farm this week. Here's a smattering of photos, most of which remind me how much I want a better camera.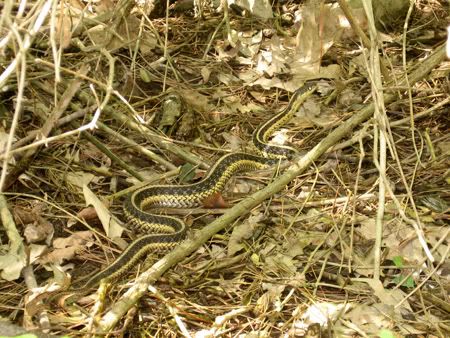 This is a fairly robust garter snake (
Thamnophis sirtalis
). They are our most common, or at least most conspicuous snake. This one was basking near a staff-only path when I spooked it. It crawled into the bushes, so I had to use my flash to get a picture.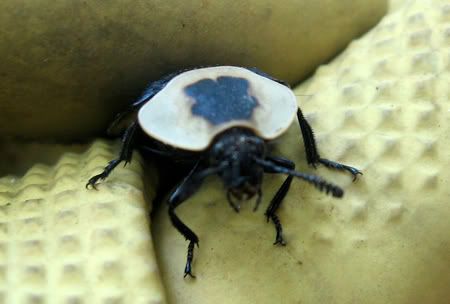 This is the face of a carrion beetle (probably
Necrophila americana
). We find them in the raptor cages, mating and laying eggs on the remains of the dead mice.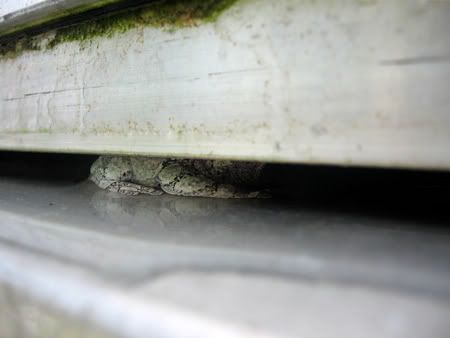 This gray treefrog (
Hyla versicolor
) was hiding in a crack in the greenhouse, singing loudly. They have excellent camouflage when they are on tree bark and lichen, but less so on man-made materials or (see icon) on man. They can change color from whitish through gray to green.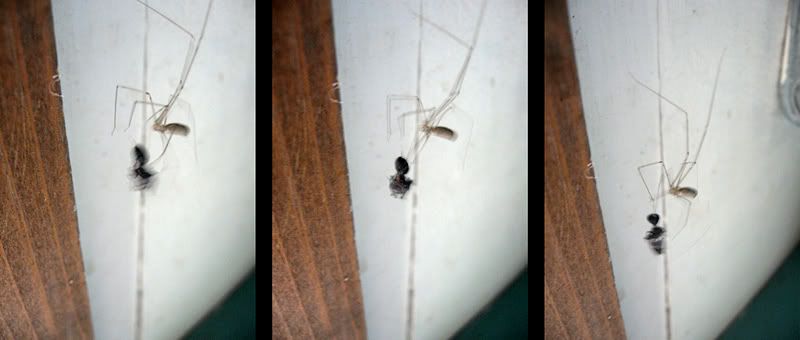 I never got a clear shot of this drama--perhaps I should have shot a video. A
cellar spider
has caught a
carpenter ant
and is wrapping her prey in layers of silk. The ant is struggling, curling her body but her legs are bound. I don't know if the spider caught the ant without biting it, or if the ant's exoskeleton is too tough for the spider's fangs to penetrate, or if the ant was bitten but hasn't fallen into paralysis for some reason.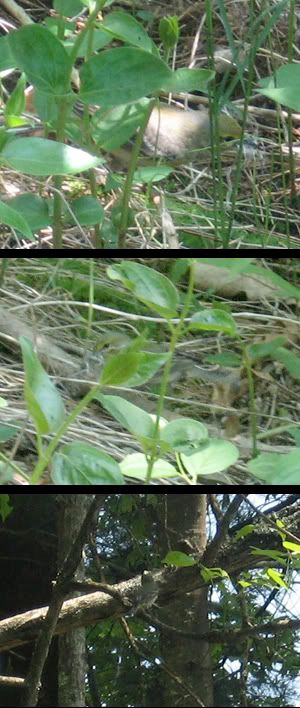 These three are of the same small bird (a warbler?) that was collecting nesting material about 10 feet from me. It was frustrating not to get a better picture.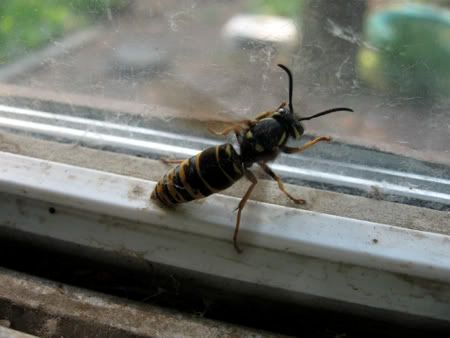 Large yellow-and-black vespid wasps are suddenly common at the farm, testing our ability to be tolerant. They take an interest in a person, and hover very close to that person's head. The two times I saw this happen, the person kept their arms down and tried to move their body out of the wasp's interest, to little avail. This one on the windowsill was uncooperative with my rescue efforts, trying to sting me through my rubber glove when I seized her by the wing.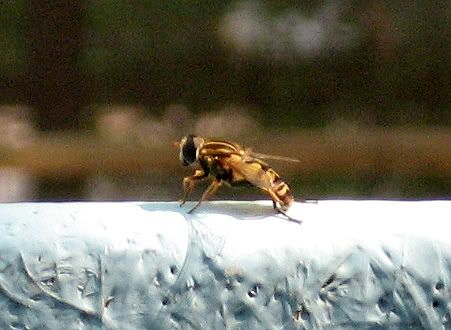 This is not a stinging insect, but mimics one for protection. This is a hover fly (family Syrphidae) in a rare moment of rest. I shot about a dozen pictures, and this is the only one that's halfway decent. They have evolved some of the most maneuverable flight of all the animals, flying sideways and backwards and holding perfectly still in the air in ways that would dazzle a hummingbird.