A few days ago I wrote about the strange things I encountered during the cold snap. It only lasted one day, and we're back to warm (for January) and muddy weather. Here's what I found the next day:
Hose ice.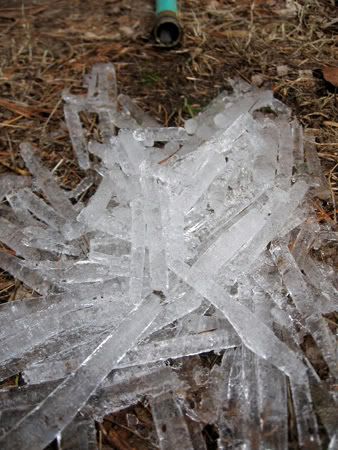 I dismantled a bird shelter that had a perch made from pvc pipe. When the pipe came away from the wood, this is what I found inside:
Ants! They were overwintering in here I suppose, and were quite sluggish. I don't know what kind of ants they are, they are intermediate in size between
carpenter
and
pavement ants
.
Their sleeping or perhaps dead bodies spilled out into the corner of the bird shelter.
Latest Month
September 2014
S
M
T
W
T
F
S
1
2
3
4
5
6
7
8
9
10
11
12
13
14
15
16
17
18
19
20
21
22
23
24
25
26
27
28
29
30