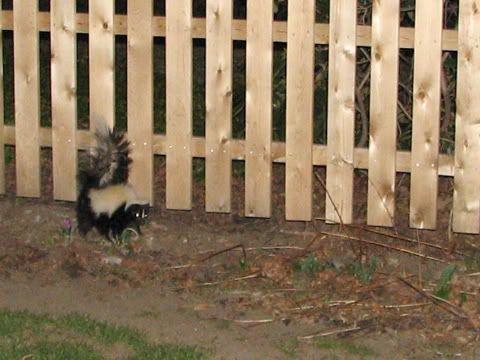 photo by
cottonmanifesto
Urban Species #090: Striped Skunk
Mephitis mephitis
Opinions seem to be polarized on the subject of skunks. Many people admire them, as beautiful (or at least cute) mammals that thrive in urban environments. Many others are revolted or frightened by them. Their name can be used as a modifier meaning "bad-smelling," or directed with bile as an insult. The captive skunk on exhibit where I work is most often greeted with "Pee-yoo!" even though his anal glands have been removed, and he smells better than most cats.
The skunk's defensive weapon is so singular, so effective, that it defines the animal and is reflected in its behavior. There are several species of skunk; all are boldly black and white. The coloration is a warning label that alerts predators to try elsewhere. Skunks are slow and deliberate, almost nonchalant, as they go about their business. They need not skulk or cower, at least not in the city. A sniff or a stamp is usually enough to deter more persistent or dimwitted predators, except for the occasional idiot dog. In the wilderness they are more cautious, necessarily wary for predators that are desperate, or, like the great horned owl, bereft of the sense of smell.
The skunk found in most North American cities is the striped skunk--a bit of an indistinct name, as their pattern varies from individual to individual. Different striped skunks can be anywhere from nearly black to nearly white, but they consistently have a stripe between their eyes. The other three skunk species are spotted or striped black and white to varying degrees as well. Striped skunks are among the least particular skunks in terms of diet. Small animals from insect larvae to poisonous snakes are their favored food, but they happily eat fallen fruit and various seeds, and carrion. Suburbanites are sometimes vexed by holes in their lawns, caused by skunks digging to get at grubs. In the winter many skunks survive on the spilled seed at birdfeeders. Roadkill is a major food source for urban skunks, and feeding upon it is a major cause of death for skunks. A skunk confronted with a car may sniff and stamp, or even spray, but the car always wins. Most urban people become familiar with the odor of a skunk after one dies in the road.
I have encountered skunks in Boston numerous times. I have never been sprayed, despite the best efforts of my dogs to induce attacks. In my experience, skunks are reluctant to use their nuclear option, but there are plenty of others whose tomato soup baths are part of a different story.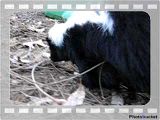 Tags: