Urban species #070: Red-winged blackbird
Agelaius phoeniceus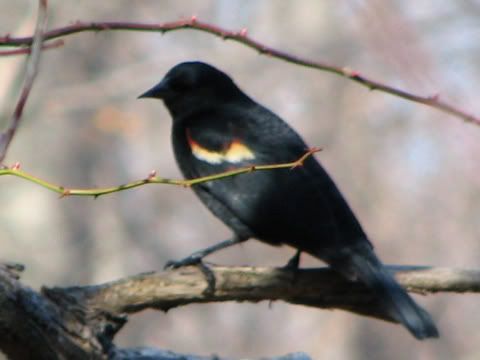 photos by
cottonmanifesto
Since earlier we established that the
robin
was an unreliable indicator of the return of spring in Boston, we must turn to other birds. One good candidate is the male red-winged blackbird. They return from their southern migration sites to the
cattail
swamps that they bred in the previous year, usually within
200 meters
of the exact territory. In an urban swamp, the territorial song ("Konk-a-reeee!") of the male red-winged blackbird can be taken for a real sign that spring is on its way.
The females return a few weeks later, with anywhere between two and fifteen females nesting and mating with each male. Studies show that females also often mate with males from neighboring territories. Female red-winged blackbirds are not black but instead are well-camouflaged, with a similar appearance to a large sparrow. When I first saw one, that was exactly what I took it to be.
In much of the rest of North America, red-winged blackbirds are year-round residents. At the end of Haight Street in San Francisco, the red-wings make forays from Golden Gate Park into the city. French fries and bagel crumbs augment their diet of insects and seeds. In agricultural areas they feed in the crop fields and are considered pests. In the fall the males migrate first, joining huge mixed flocks with other blackbird species.