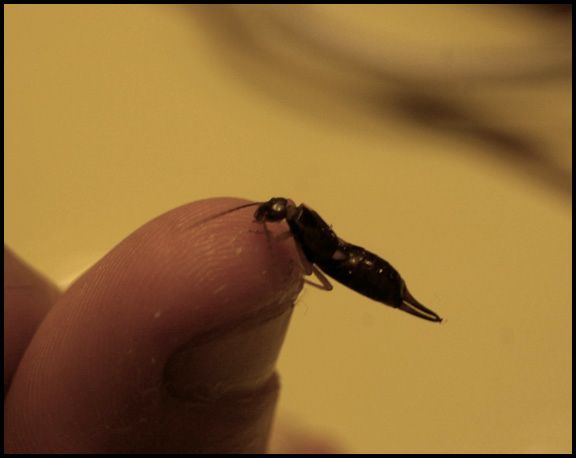 This earwig (almost certainly
Forficula auricularia
) was on our kitchen floor, looking slightly stepped-on. I picked it up and moved it outside where it could properly reenter the food web.
Earwigs are mostly tropical and subtropical animals, but the cold tolerant European earwig
Forficula auricularia
can be found just about everywhere. It probably came to New England in soil ballast, but it could have come in the cracks of wooden shipping crates, or in potted plants, or almost any other way. They eat just about anything and can get into tiny crevices. It's fortunate that they seem to prefer to be outside, or else they would be as serious pests as cockroaches. As it is, they come indoors more often in humid places (according to anecdotes that people have told me, and my own experience where I find them in the zoo) and are rarely found in swarm-like numbers.
The European earwig was featured here earlier as
365 urban species #191
. Earwigs are no more likely to crawl in your ear as you sleep than any other insect (and less so than some others) but just in case, gag gift outfitters Archie McPhee have provided
this product
:
(thanks to
ndozo
for the link)
Tags: