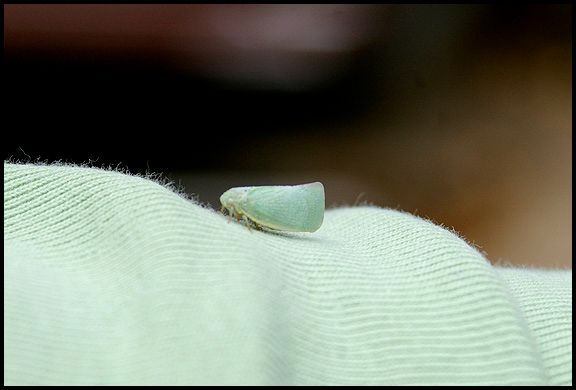 Northern Flatid Planthopper
Anormenis chloris
This planthopper has found remarkably effective camouflage on my friend Diane's shirt.
Flatid planthoppers belong one of several families within a larger group that includes cicadas and
leafhoppers
. Planthoppers appear to have evolved in the tropics and spread outward. The two main host plants of
Anormenis chloris
are black walnut and paw paw, two trees that just barely range into Massachusetts. They can make use of at least three dozen other plants, including some crops.
Nymphs of flatid planthoppers excrete filaments of waxy material. The young insects become almost completely covered in a cottony wrapping, which sticks to predators and doesn't stick to spiderwebs.
Tags: